Silver investing can seem daunting to those who have yet to explore the world of precious metals, and rightfully so. For decades precious metal investments like gold and silver have been a safe haven for investors looking to diversify their portfolios away from traditional stocks and bonds. But with many uncertainties in the current economic climate, it's understandable that would-be investors may be questioning if trading or long-term investments in silver are truly an intelligent decision. We're here to help answer some of these questions by exploring whether silver is indeed a good investment option today!
Why is silver considered a good investment option
Silver, a lustrous and precious metal, has been a part of human culture for thousands of years. Today, it continues to hold immense value as a popular investment option, thanks to its various properties. One of the key reasons why it is considered a good investment is its finite supply, meaning its demand will always outweigh its availability, resulting in lasting value. Additionally, it has both intrinsic and industrial value, making it a safe haven during economic turbulent times. Moreover, its easy portability and liquidity make it a flexible investment option for anyone, regardless of their financial standing. Overall, owning silver can not only provide financial security but also allows one to own a piece of history. Whether you're looking for the best silver coins to buy or want to consider ETFs or other options, there are plenty of ways to invest in this precious metal! It's important to note that, with any investment, there is always some risk involved. It's important to consider these risks and weigh them against the potential rewards before investing in silver. 
Advantages of investing in silver
Investing in silver can bring numerous advantages to investors looking to diversify their portfolios. One of the main benefits of investing in silver is its affordability compared to other precious metals such as gold. This makes it an accessible option for investors who may not have a huge budget to start with. Additionally, silver has various industrial uses, from electronics to medicine, which makes it not just a commodity for collectors, but also a vital component in many industries. Moreover, the demand for silver remains stable even during economic downturns, making it a reliable asset to hold on to during times of uncertainty. Its value also tends to increase over time, making it an attractive long-term investment. Overall, for investors who are looking to add a valuable asset to their portfolio, silver can prove to be a wise choice.
Understanding the risks involved with investing in silver
Investing in silver can be a great way to diversify your portfolio and potentially earn high returns. However, it's important to understand the risks involved before jumping in. One major risk is the volatility of the silver market. Silver prices can fluctuate greatly, so you need to be prepared for potential losses. Additionally, if you are not familiar with the market or are not working with a reputable dealer, you may unknowingly purchase counterfeit silver, which can be a significant financial loss. To minimize these risks, it's important to do your research, work with a trusted dealer, and diversify your investments.
Different types of silver investments available 
Investing in silver can be a safe and smart way to diversify your portfolio. There are various types of silver investments that you can consider. Firstly, you can invest in physical silver such as coins, bars, and rounds. These can be a great option for those who prefer tangible assets. Secondly, you can invest in silver exchange-traded funds (ETFs) which enables you to invest in silver without physically owning it. Another option is investing in mining stocks of companies that extract silver from the ground. Finally, you can also invest in silver futures contracts which give investors the option to purchase or sell silver at a predetermined price in the future. With various options, choosing the right silver investment will ultimately depend on your financial goals, risk tolerance, and overall investment strategy.
How to buy and sell silver securely 
If you're looking to buy or sell silver, security is key. There are a few steps you can take to ensure a secure transaction. First, research your seller or buyer thoroughly. Look for reviews or ratings from other customers and make sure they have a good reputation. Next, use a reputable payment method like PayPal or a credit card that offers fraud protection. If you're buying silver, make sure it's genuine by requesting proof of authenticity from the seller. Finally, consider using a tracker or insurance when shipping silver to ensure it arrives safely. By taking these precautions, you can buy and sell silver with peace of mind.
Strategies for building a diversified portfolio with silver investments
Creating a diversified portfolio when investing in silver is an essential strategy for any savvy investor. The key to success is to not solely focus on one type of silver investment but to spread your investments across different products, such as bars, coins, and bullion. Additionally, investing in silver funds and stocks can offer exposure to the silver market without owning physical silver assets. Another avenue to consider is investing in silver mining companies, which can provide an additional layer of diversification to your portfolio. By diversifying your silver investments, you can mitigate risk and position yourself for long-term growth opportunities in this market.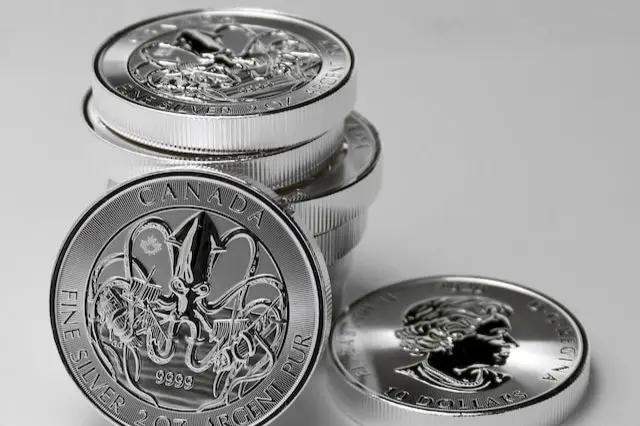 Investing in silver can be a great way to earn passive income and diversify your portfolio. It's important to understand the risks involved and to utilize strategies that fit within your financial goals. Silver investing also allows you to tangibly hold onto the assets, making it a unique investment option when compared to stocks or traditional investments. There are many different options available regarding how you can purchase silver, such as coins, bars, rounds, or certificates. As with any investment decision, it is best to consider your individual needs before committing to an investment plan. With careful research and planning, people of all ages can find success investing in silver while enjoying the benefits that come with a diverse range of investments and financial stability.