As we inch closer to the futuristic world envisioned in "The Jetsons," the options for building a smart home ecosystem may seem daunting. Central to any such endeavor is the home automation system – an all-in-one engine that orchestrates and harmonizes the diverse collection of smart devices.
From setting scenes and routines to establishing schedules and extending control over each connected device, the chosen automation system is the all-important foundation upon which the home thrives.
Consequently, it is vital to carefully select a system that is compatible with an array of brands and optimally caters to your unique needs.
Remember, your smart home's aesthetics, functionality, and even the lightbulbs adorning the walls will all be determined by this indispensable automation system.
Best Home Automation Systems
The first step is to choose the system that will control your smart home and garden. Users of the following systems benefit the most.
SmartThings
SmartThings is the best home automation system. It centralizes control of your home automation system, making it simple to use even for those who are not tech-savvy.
It sets itself apart from other systems by providing seamless compatibility with various devices and brands, allowing users to create a truly personalized experience.
Moreover, the highly adaptable and efficient user interface ensures that you can effectively manage your smart home ecosystem without any hassle.
So, with SmartThings, you no longer have to worry about finding an all-encompassing home automation system that also complements your preferred devices and brands. Dive into the world of automation and make your life more convenient and efficient with SmartThings by your side.
HomeKit
HomeKit by Apple is truly a revolutionary smart home automation system due to its combination of convenience and functionality. Instead of needing multiple hubs like other services, HomeKit allows devices like the HomePod mini and Apple TV 4K to do double duty as both media outlets and a single hub for the entire home.
As expected from Apple, users get to enjoy a sleek and well-designed interface with the HomeKit mobile application which bears striking resemblance to SmartThings yet includes useful simplifications that make managing homes intuitive and straightforward.
Devices are represented as cards within the app, allowing easy access to one's favorite accessories, as well as providing a preview of the most-used camera feed right from the home screen of the app.
To further simplify navigation, shortcuts are conveniently located at the top of the page, offering quick access to essential functions such as managing the security system, monitoring active devices, and troubleshooting non-responsive accessories.
My experience with Apple's Home app has been quite positive overall, despite encountering occasional bugs and minor issues that can be easily resolved with future updates.
Google Home
The burgeoning popularity of the Google ecosystem in the realm of smart home control can be traced back to the groundbreaking Nest Thermostat, which revolutionized the Internet of Things.
Its success has led Google to develop and offer a diverse range of smart home gadgets under the Nest brand, catering to varying customer needs. For instance, Google users who already own a Nest thermostat can easily integrate additional Nest devices such as the Nest x Yale Lock, Chromecast, Nest Hub, or Nest Mini to create a seamless, connected experience throughout their homes.
A notable feature of this ecosystem is the Google Home app, which sets itself apart from other home automation systems by offering an exceptionally user-friendly and intuitive interface. Users can effortlessly navigate the app, explore various categories, or access favorite rooms, all from the comfort of their smartphone screen.
Moreover, creating custom automation within the Google Home app is a breeze, ensuring that users can truly harness the power of smart home technology to simplify and enhance their everyday lives.
Which Smart Garden Devices Can Be Integrated into a Smart Home?
Green Thumb
A daunting task for budding horticulturists can be keeping their plants alive, especially for those who seem to have a not-so-green thumb.
However, despair not, as there is still hope to achieve that glorious landscape you've been dreaming about. Consider integrating a plant sensor into your botanical sanctuary; these smart devices are the unsung heroes of the modern garden.
Easily embedded within the soil, these sensors gather crucial data regarding the needs of your flora and provide you with timely insights. Forgetful gardeners, rejoice!
These devices also offer push notifications to remind you when your verdant companions require hydration, eliminating the guesswork and ensuring a lush and thriving garden. So why not give your plants the care they deserve and turn over a new leaf with the help of a plant sensor?
Smart Lawnmower
Modern technology has come to the rescue with a robotic savior, leaving you with a perfectly manicured lawn without breaking a sweat.
Just like an automated vacuum cleaner, these smart lawnmowers can take over the daunting task of trimming your grass while you sit back, relax and enjoy your free time.
There's simply no need for personal effort when machines are more than capable of seeing to it that your yard is well-kept, allowing you to focus on other important aspects of your life, or even just enjoy a lazy afternoon.
So why not embrace the future of lawn maintenance and let your own personal robot take care of the job for you?
Plant Identification
Growing anything, with a high probability, you will encounter a lack of knowledge. Using the plant identifier app, you can bridge any gap in knowledge. With LiLy Plant Identification, you can recognize any plant, and receive recommendations for its care and a growth chart. This plant app has an intelligent disease-detection mode.
If you point to the camera of your phone with the app for iPhone, you will quickly be able to identify the disease.
Moreover, this app for plants will tell you exactly how to cure a plant by making an optimal plan of action. So you save a lot of time and money by complementing your personal experience with smart automation systems.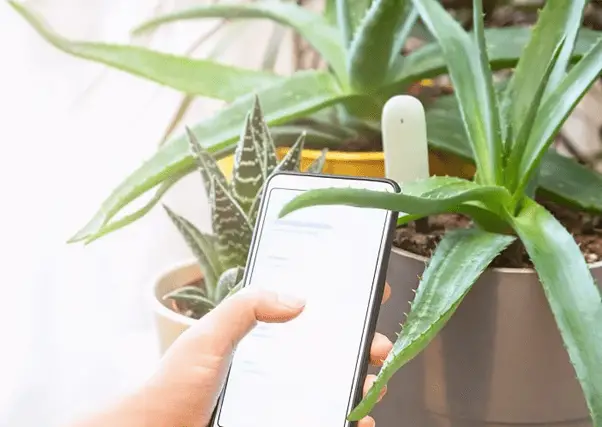 Smart Sprinkler System
Imagine a world where even the essential elements, such as water, become intelligent, providing your garden with a whole new level of care and precision. Welcome to the era of smart sprinkler systems – a revolutionary way to keep your plants not just adequately hydrated, but pampered with customized watering schedules and automated technology.
While you benefit from an effortless, hands-off experience, your leafy friends thrive with the perfect amount of moisture. Top-notch smart sprinkler systems can even adjust their schedules autonomously, responding to diverse conditions in real-time, and their Wi-Fi capabilities ensure seamless connectivity and control.
Better still, these innovative devices support sustainable gardening by being more eco-friendly and efficient than traditional sprinklers, putting your green thumb and environmental consciousness hand in hand.
Conclusion
Smart home technology is quickly revolutionizing the way we maintain our gardens.
With a wide array of devices and features designed to simplify and enhance our lives, it's never been easier to care for your plants with less effort.
Whether you opt for a plant sensor, robotic lawn mower, smart sprinkler system, or an AI-powered plant identifier app, you can make your garden look perfect with minimal effort.