Are you looking for trend-setting and eye-catching outfit ideas with your cargo pants? Cargo pants are a stylish staple in the fashion world, and they can be worn in so many unique ways. To get creative inspiration with your look, we've gathered some of the trendiest cargo pants outfit ideas that you can take as inspiration. From everyday casual looks to sophisticated night-outs, there is something for everyone here. Keep on reading to learn how you can make your own trendy cargo pant look!
Streetwear Inspired Outfit with Cargo Pants
Are you ready to add some edge to your wardrobe? Look no further than a streetwear-inspired outfit with cargo pants. Not only are these pants functional with their multiple pockets, but they also add a rugged touch to any outfit. Combine the trendy pants with a graphic tee and a denim jacket for a casual yet stylish look. Feeling daring? Swap the denim jacket for a bomber jacket and add some chunky sneakers to truly make a statement. 
Don't be afraid to mix and match different textures and prints to create a unique outfit that represents your personal style. With cargo pants as a staple piece, the possibilities are endless. More importantly, a lot of fun can be had experimenting with your own look. Streetwear is predominant with cargo pants, but you can also add a bit of femininity to the look with flowy tops and a pair of heels.
Casual Weekend Look Featuring Cargo Pants
Looking for a comfortable yet stylish outfit for your next weekend outing? Cargo pants are the perfect choice! These versatile pants are great for achieving a casual and effortless look. Whether you're going for a walk in the park, running errands, or meeting friends for a coffee, cargo pants are a practical and fashionable option. 
Pair them with a basic tee and sneakers for a laid-back look or dress them up with a blouse and heels for a more upscale vibe. With their multiple pockets, cargo pants provide plenty of storage space for your essentials while keeping you comfortable all day long. So, if you want to nail the casual weekend look, add a pair of cargo pants to your wardrobe! Luckily, you'll find them in a variety of colors and styles that will fit your style perfectly.
Make Cargo Pants Work for the Office
While cargo pants may initially seem like a casual choice, they can be surprisingly versatile and make for a great addition to your office wardrobe. With their multiple pockets and comfortable fit, they're perfect for days when you're constantly on the go. Plus, they're easy to dress up with a crisp shirt and blazer, making for a put-together yet relaxed look. Don't be afraid to experiment with different colors and textures to see what works best for your office environment. 
By incorporating cargo pants into your workwear rotation, you'll have a stylish and practical option at your fingertips. Although office attire can be tricky to master, cargo pants are a great way to add some personality and uniqueness to your look. Especially if you have a busy schedule and need to be able to move around with ease. And as far as women go, cargo pants are the perfect way to break away from the traditional dress code and still look professional.
The All-Season Cargo Look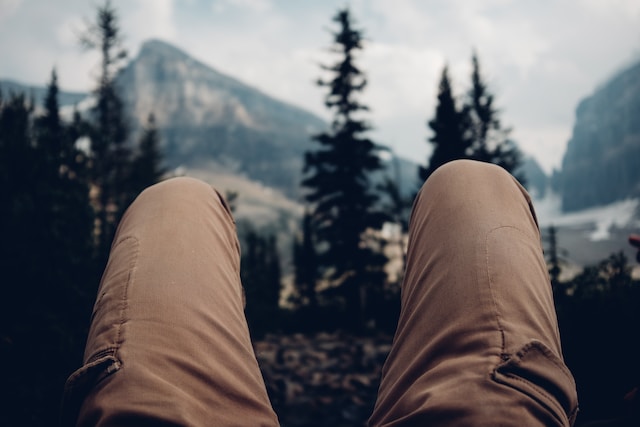 Cargo pants are an excellent choice for all seasons. During the colder months, simply layer them with a T-shirt and a cozy sweater to stay warm and stylish. If summer is your favorite season, you can pair them with a tank top or cami and add sandals or sneakers for a casual yet perfect look. And if you're on the hunt for something more formal, a crisp white shirt and some heels will do the trick. No matter what time of year it is, cargo pants are an incredibly versatile option that can be dressed up or down to suit your individual style and mood. Especially if you decide to choose a handbag that will fit the entire outfit. With a variety of colors and styles available, you'll definitely find one that fits you perfectly. So go ahead and embrace the cargo pant trend today!
Dress Up Your Cargo Pants For Date Night
When you think of cargo pants, you may conjure up images of functional and practical outfits, perfect for outdoor adventures. But did you know that you can dress up your cargo pants for a date night? Yes, you read that right! With a little bit of creativity and imagination, you can create the perfect outfit that exudes confidence, style, and personality. Swap out your usual sneakers for a cute pair of heels or ankle boots, and elevate your look with a blouse or a fitted blazer. Don't be afraid to add accessories to make a statement, such as a belt, a necklace, or a statement bag. With some tweaks here and there, your trusty cargo pants can become a chic and effortless ensemble that is sure to impress your date. Now, although cargo pants are not traditionally seen as a date night option, with the right styling, they can be incredibly versatile and stylish. So don't shy away from experimenting and having fun with your look!
Elevate Your Look with a Statement Jacket and Cargo Pants
Are you tired of the same old wardrobe that doesn't make you stand out? Elevate your look with a statement jacket and cargo pants! These two pieces can take your outfit from boring to fashion-forward in an instant. A statement jacket with unique detailing like bold colors, patterns, or textures can add a pop of personality to any outfit. Paired with comfortable and practical cargo pants, you'll not only look stylish, but you'll also be ready for any adventure that comes your way. Don't be afraid to mix and match different patterns and colors to show off your unique sense of style. With a statement jacket and cargo pants, you'll be turning heads wherever you go. More importantly, you'll feel confident and fashionable in your new look and be ready to take on the day in style!
Cargo pants have become a style staple for every season. They offer an incredible balance between comfort and chic, letting you move without sacrificing your look. Whether it's for day or night out, accentuating a casual or formal outfit is the most important part of making cargo pants work. From streetwear-inspired to sleek minimalistic looks, there are so many ways to pull off a fashionable cargo pant look while still looking effortlessly stylish. 
Whatever you choose, one thing remains true – you can make this timeless piece work with whatever event we may have in store! Cargo pants are known for their comfort and durability, so you can keep styling while knowing your outfit will last. Take the plunge and add some cargo pants to your wardrobe – you won't regret it!