Getting pulled over and receiving a traffic violation is something no one wants to experience, but it can happen to anyone. Whether it's a speeding ticket, a red light violation, or some other traffic offense, it's essential to know how to handle the situation calmly and effectively. So, here's a step-by-step guide on what to do if you find yourself on the receiving end of a traffic violation. By following these steps, you can mitigate the consequences and ensure you handle the situation as smoothly as possible.
Consult with an Attorney
If you're uncertain about how to proceed or believe the violation is unjust, it's wise to consult with a traffic attorney. They specialize in traffic law and can offer expert guidance on your case. If the violation took place in North Carolina, a reputable traffic lawyer in Wilmington, NC can help you understand your legal rights, potential defenses, and the best strategies for minimizing the consequences of the violation. While this may involve some legal fees, it can be a wise investment in the long run, particularly if you're facing severe penalties.
Be Courteous and Cooperative
When the officer approaches your vehicle, be courteous and cooperative. Roll down your window, turn off the engine, and keep your hands visible on the steering wheel. Follow the officer's instructions and avoid making any sudden movements. If you have to reach for your license and registration, let the officer know beforehand. Being polite and respectful can go a long way in this situation.
Understand the Violation and Your Rights
Once the officer explains the reason for pulling you over and issues the ticket, make sure you understand the violation and the consequences. You have the right to ask questions and seek clarification, but be respectful when doing so. Take note of any important information, such as the officer's name and badge number, as well as the date, time, and location of the stop. Understanding the violation will help you decide how to proceed.
Consider Your Options
After you receive the traffic violation, you have several options. You can pay the fine, which typically results in points on your driving record and increased insurance premiums. Alternatively, you can contest the ticket in court, which may lead to reduced fines or even a dismissal of the violation. Consider the potential consequences of each option and choose the one that best fits your situation.
Pay the Fine
This is the most straightforward option. You can pay the fine as stated on the ticket, which typically resolves the matter quickly. However, it's important to understand that this course of action usually results in points being added to your driving record.
These points can lead to increased insurance premiums, and if you accumulate too many, you might face the suspension of your driver's license. Therefore, consider this option if the fine is reasonable and you have a clean driving record.
Contest the Ticket
Contesting the ticket in court can be a more complex and time-consuming process, but it offers the potential for reduced fines or even a dismissal of the violation. Before pursuing this route, review the circumstances of the violation. If you believe there are legitimate grounds to challenge the ticket, such as inaccuracies in the officer's report or traffic signage issues, contesting it could be worthwhile. Keep in mind that successfully contesting a ticket often requires presenting evidence, such as photos or witness statements, so be prepared for this level of involvement.
Attend Traffic School
In some cases, you may have the option to attend a traffic school or defensive driving course to mitigate the consequences of a traffic violation. Completing such a course can result in the removal of points from your driving record and potentially reduce the impact on your insurance premiums.
However, not all violations or jurisdictions allow this option, so check with your local authorities to see if it's available in your case. Keep in mind that traffic school usually requires an upfront fee and the commitment of your time, but it can be a beneficial alternative to consider.
Document the Incident
To strengthen your case if you decide to contest the traffic violation, it's essential to document the incident as thoroughly as possible. Take pictures or videos of the scene, especially if you believe the ticket was issued unjustly. Note any witnesses, including their contact information, who might be willing to testify on your behalf. Detailed documentation can provide valuable evidence in court.
Attend Your Court Date
If you choose to contest the traffic violation, it's crucial to attend your scheduled court date. Failure to appear can result in additional penalties, including the suspension of your driver's license. Dress professionally, present your case respectfully, and provide any evidence or witnesses that support your argument. Be prepared for a potential negotiation with the prosecutor, which may lead to a reduced charge or fine.
Monitor Your Driving Record
After dealing with a traffic violation, it's essential to monitor your driving record. Your record reflects your driving history, including any violations and points. Regularly reviewing your record helps you ensure that any points or inaccuracies are corrected, keeping your insurance rates in check and your driving privileges intact. Most states offer the option to request a copy of your driving record online or through the Department of Motor Vehicles (DMV).
Learn from the Experience
Receiving a traffic violation can serve as a valuable learning experience. Take the opportunity to reflect on the incident and consider what led to the violation. Were you in a hurry, distracted, or simply unaware of the rules of the road? Use this as a reminder to practice safe driving habits, follow traffic laws, and be a responsible and cautious driver. Remember that avoiding future violations not only protects your wallet but also your safety and the safety of others on the road.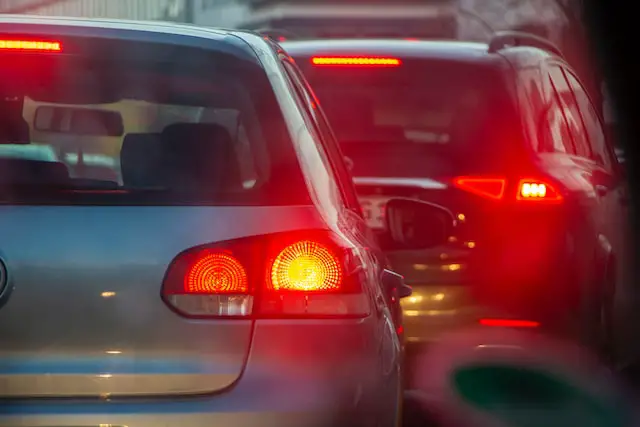 Whether you choose to contest the ticket or accept it and pay the fine, staying calm and cooperative during the traffic stop is key. Additionally, documenting the incident, consulting with an attorney when necessary, and attending your court date if you decide to contest the violation can help protect your driving record.
Don't forget to monitor your driving record and, most importantly, use the experience as an opportunity to become a safer and more responsible driver. Ultimately, being well-informed and composed in the face of a traffic violation can lead to a better outcome and a cleaner driving record.