In the ever-evolving landscape of e-commerce, establishing a robust online presence is crucial for businesses aiming to thrive. One platform that has consistently proven its efficacy in aiding online businesses is Shopify. With its user-friendly interface, powerful features, and extensive support, Shopify has emerged as a versatile and indispensable tool for businesses of all scales. In this article, we will delve into the various ways in which Shopify can be immensely beneficial for any online business, from enhancing customer experience to simplifying management tasks.
The Power of Shopify's Ecosystem
At the heart of Shopify's appeal is its comprehensive ecosystem that empowers businesses to create, manage, and expand their online stores with ease. From a diverse array of customizable templates to a seamless checkout process, Shopify offers a user-centric experience that ensures brand consistency and enhances customer trust. This holistic ecosystem not only enables businesses to build their online storefronts but also provides a range of integrations and applications that facilitate marketing, inventory management, analytics, and more. By simplifying the technical aspects of running an online business, Shopify liberates entrepreneurs to focus on their core strengths and strategies for growth.
Unraveling the Unparalleled Support
One of the cornerstones that distinguishes Shopify from other e-commerce platforms is its exceptional customer support. While many platforms offer customer assistance, your go-to Shopify support team takes it a step further by offering 24/7 support through multiple channels, including live chat, email, and phone. This comprehensive support system ensures that businesses can swiftly resolve any technical glitches, operational challenges, or even design-related concerns. This level of support becomes particularly crucial for entrepreneurs who might not possess extensive technical knowledge, enabling them to overcome obstacles and continue to provide seamless shopping experiences for their customers.
Seamless Scalability and Flexibility
One of the inherent challenges that online businesses face is the need to scale rapidly in response to demand fluctuations. Shopify has been designed with scalability in mind, allowing businesses to seamlessly expand their operations as their customer base grows. The platform offers a variety of plans to cater to different business sizes, ensuring that entrepreneurs do not need to migrate to a different platform when their operations expand. Additionally, Shopify's App Store is a treasure trove of plugins and extensions that can be easily integrated to add new features and functionalities, granting businesses the flexibility to adapt to changing market dynamics.
Empowering Marketing and SEO
In the competitive world of e-commerce, effective marketing and visibility are paramount. Shopify offers a range of built-in marketing tools that enable businesses to optimize their online presence and reach their target audience. From customizable meta tags to blogging capabilities, Shopify equips businesses with the tools they need to implement solid SEO strategies. Furthermore, the platform seamlessly integrates with popular social media channels, allowing businesses to tap into the power of social commerce and leverage the vast potential of online communities to drive sales and engagement.
Security and Trust
In the digital age, concerns about online security and data protection are ever-present. Shopify comprehends the gravity of these concerns and has invested significantly in ensuring the security of its platform. With features like SSL certificates, fraud analysis, and secure payment gateways, Shopify provides a secure environment for both businesses and customers to transact. This emphasis on security not only safeguards sensitive information but also cultivates trust among customers, ultimately contributing to higher conversion rates and repeat business.
Effortless Management and Analytics
Running an online business involves a myriad of tasks, from managing inventory to processing orders and tracking customer data. Shopify simplifies these processes through its intuitive dashboard that offers comprehensive management functionalities. Merchants can efficiently manage products, track inventory, and fulfill orders, all within a user-friendly interface. Additionally, Shopify's built-in analytics provide valuable insights into customer behavior, sales trends, and marketing effectiveness. This data-driven approach empowers businesses to make informed decisions, refine their strategies, and optimize their operations for sustained growth.
Empowering Personalization for Enhanced Customer Experience
In the pursuit of online success, tailoring the shopping experience to individual customers' preferences is paramount. Shopify facilitates this by offering a range of features that enable businesses to deliver personalized experiences. With customizable templates, businesses can create unique storefronts that resonate with their brand identity. Moreover, Shopify's customer segmentation tools allow businesses to categorize their audience based on behavior, demographics, and purchase history, enabling targeted marketing campaigns. Through personalized recommendations, special discounts, and tailored content, businesses can foster a deeper connection with customers, driving engagement and loyalty.
The Allure of Mobile Commerce and Responsive Design
In the digital era, a significant portion of online traffic comes from mobile devices. Shopify recognizes this trend and equips businesses with responsive design capabilities to ensure seamless browsing and purchasing experiences across various devices. Mobile-responsive themes and a mobile-friendly checkout process are fundamental components that contribute to reducing bounce rates and increasing conversion rates for mobile users. With mobile commerce steadily becoming the norm, Shopify's emphasis on optimizing the mobile experience positions businesses to tap into a rapidly growing segment of online shoppers.
A Vibrant Community and Knowledge Base
Apart from its technical capabilities, Shopify boasts a vibrant community and an extensive knowledge base that are invaluable resources for online businesses. The Shopify Community Forum serves as a hub for merchants to connect, share insights, seek advice, and learn from one another's experiences. Whether it's troubleshooting technical issues or discussing marketing strategies, this collaborative platform fosters a sense of camaraderie among entrepreneurs. Additionally, Shopify's knowledge base and comprehensive documentation offer step-by-step guides, tutorials, and best practices that empower businesses to navigate the platform effectively, further solidifying Shopify's reputation as a user-centric solution.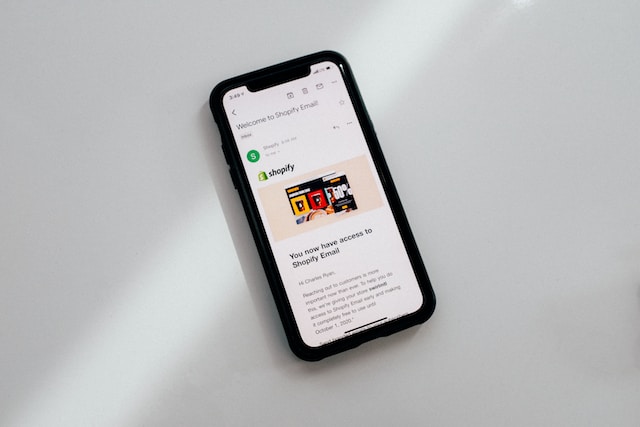 In a digital landscape where online businesses are continually striving to gain a competitive edge, Shopify emerges as an indispensable tool that empowers entrepreneurs to harness the power of e-commerce. With its comprehensive ecosystem, robust customer support, and emphasis on scalability, Shopify lays a solid foundation for businesses to flourish. The platform's dedication to user experience, security, and innovation makes it an ally that simplifies the complexities of running an online business. From enhancing customer experience through personalization to tapping into the mobile commerce boom, Shopify remains at the forefront of e-commerce evolution. So, whether you're a budding entrepreneur or an established brand, embracing Shopify could be the key to unlocking unparalleled growth, enriching customer interactions, and redefining success in the digital realm.