Perhaps we have never assumed that we will get to call schools a very wild place to be with the information spreading about turbulence in the education system, massive shootings in schools executed by craving violence, or even students from the school seeking revenge on their teacher and peers because they made them feel some way or because of the grudges they have been holding for a very long period of time. Another critical problem in the school environment is the deeply rooted problem of bullying and assault, which has even resulted in dramatic outcomes and even fatalities. It seems that it becomes more and more complex for teachers and school authorities to maintain peace and a productive schooling environment. It is the reason why we have prepared a couple of tips on how to create a safe and secure environment in schools. 
Communication Within School Facilities 
Schools are broad areas that usually have a huge number of people operating on a daily basis. To this end, you need to have productive and effective communication systems that will enable information exchange as efficiently as possible. So, the educational facility needs to have a deep insight into what the communication channels are for crisis situations—are there handsets or mobile phones for the staff in classrooms? It is of immense importance to have all of these things in place in case of emergency situations, such as medical emergencies. 
If you are using mobile phones as a system of communication, then you would probably like to consider some more, such as alarms for distress. Let us clarify at the beginning, these are not just fire alarms but can also be distress and silent alarms. When picking alarms, you should consider a couple of things. Where should it be heard, how can it be tested regularly, and where should you position panic buttons? For an extra level of security, you should consider installing protective wire guards for wall-mounted equipment and keeping all of the emergency equipment in place and untouched by students or intruders. When it comes to security details, you always need to act strategically and practically in case an emergency arises. 
Access Control 
One of the ways to keep your students and school staff safe when they are on the school premises is to limit the flow of people circulating by implementing access control. This principle could be as simple as using systems such as digital cards for every entrance or area that should be secured and monitored. For instance, you can also pair card systems with the fob system to control who can enter the building. Access control fobs and cards are easy to set up and assign, which is quite convenient when a lot of people need access to the building.
Signage 
Just as we have mentioned earlier, schools can be broad places, and it is of great importance to have clear signage highlighted everywhere. These should provide staff and students with information on what to do when there is an emergency, lead them towards an emergency that exists, and notify them about some security measures such as monitoring by CCTV. The majority of these signs are legal requirements that have very specific dimensions to comply with as well. These are most likely to be installed when the alarm or some other security system is installed unless there are already adequate signs in the facility.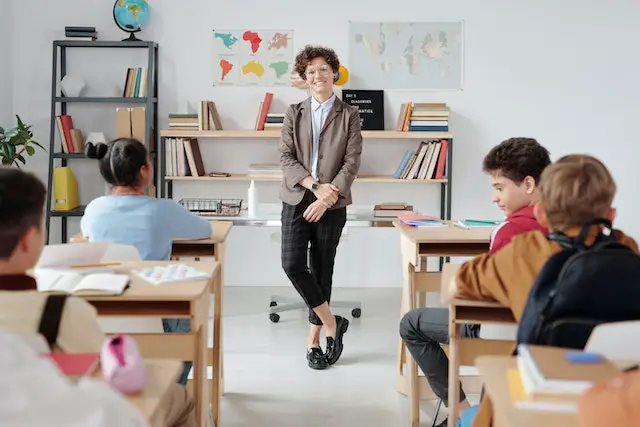 You Must Secure the Perimeter 
The most efficient way to protect your students, property, and staff is by securing the perimeter. You should make sure that all of the school facilities are secured and that there are no easily accessible points. Besides, you should make it a rule to conduct regular perimeter checks so that there are no broken fence panels and that all of the security systems are working. Adding access control to your educational facility will narrow down the reception areas. Drop arm barriers and palisade fencing are some of the most popular security systems for educational facilities. 
When considering your options when it comes to securing your perimeter, you need to discuss every single detail. For instance, palisade fencing is one of the most popular ways of securing the perimeter of the school as it is a cheap option, is very durable, and is demanding to climb. 
A security gate is yet another smart option when it comes to securing the school perimeter. These systems require keypad/swipe card entry so that staff can access the school's premises. Also, this will contribute to a sense of security for those staff who need to get in early and leave late.
CCTV
Some people can be quite hesitant about implementing CCTV on school premises for safeguarding reasons. However, there are some proofs indicating that it is by far the most effective way to improve security. Before you install CCTV on the school premises, you need to be very specific about why you want it. A reason for this is the legal requirement to notify the ICO of why you want to implement CCTV before the actual installation occurs. The most common reason why CCTVs are installed is because of trespassers, safety, fire, and deterrence from crime. It is essential to think of the positions of the cameras, as they can be prone to attack. 
Security Lighting
During the winter season, it gets darker the earliest, so it is always a good idea to have some additional lighting outside. You can get these installed along the footpaths, playground, and some other school facilities so that they provide additional lighting and everyone stays safe, especially the staff who leave late. In addition, security lighting should also be synchronized with the CCTV implementation. For example, flood lights are an interesting option as they get triggered by infrared detectors. 
Schools are some of the most important places in the development of any youngster, and as such, they need to be extremely secure so that everyone can feel safe when spending time on the school premises. Taking into consideration some previous tragic events, it is of the utmost importance that security be one of the top priorities in schools.