In a world that increasingly values health and fitness, understanding how to effectively enhance your workout performance is of paramount importance. Elevating your exercise routine is not merely about increasing the intensity or duration of your workouts but involves a holistic approach that optimizes your physical exertion, recovery, and overall well-being.
Improved workout performance can translate to significant advancements in achieving your health and fitness goals, whether it's losing weight, building muscle, improving cardiovascular health, or boosting stamina.
In the following sections, we will explore six essential tips that will help you amplify your workout performance, allowing you to unlock your full physical potential and take your fitness journey to new heights.
1. Prioritize Proper Nutrition
Consuming nutrient-dense foods fuels your workouts and aids in recovery. A balanced diet rich in lean proteins, complex carbohydrates, and healthy fats supports energy levels, muscle growth, and repair. Prioritize consuming a pre-workout snack or meal, ideally 1-2 hours before your session. This will provide you with the necessary energy to power through your workout and minimize fatigue. Additionally, ensure post-workout nourishment to replenish lost glycogen stores and support muscle recovery.
If you are on the lookout for the best pre-workout supplementation, try beta-alanine, caffeine, or creatine-based products. If you, however, are looking for foods that can improve your performance, consider eating bananas, whole grain toast with almond butter, or Greek yogurt topped with berries. On the other hand, a post-workout meal could include grilled chicken breast, quinoa, and roasted vegetables.
2. Stay Hydrated
Water plays a crucial role in every bodily function, including maintaining your body's temperature and lubricating your joints. Ensure you're drinking enough fluids before, during, and after your workouts to avoid dehydration. Hydration also impacts your physical performance and can lead to fatigue, reduced muscle strength, and impaired cognitive function if not adequately maintained. Aim for at least eight cups of water daily and increase this amount during intense exercise sessions.
When exercising in hot or humid conditions, consider consuming a sports drink containing electrolytes to replace lost fluids and minerals. Furthermore, when working out, consider drinking water with high amounts of sodium, magnesium, and potassium. Sodium is actually essential during a workout because it helps with fluid retention which can help reduce cramping. Electrolytes are key when it comes to hydration during a workout.
3. Incorporate Strength Training
Strength training not only builds muscle mass but also boosts your metabolism and improves your athletic performance. Aim to include at least two strength training sessions in your weekly workout routine. Focus on using free weights or resistance training equipment to challenge your muscles and improve strength, stability, and balance.
Resistance bands, kettlebells, and bodyweight exercises are excellent alternatives for those without access to gym equipment. For example, incorporating squats, lunges, push-ups, and planks into your routine can significantly enhance muscle growth and functional strength.
In addition to the physical benefits, strength training can also improve bone density and reduce the risk of osteoporosis, especially in women. Furthermore, increasing muscle mass can help with weight loss, as muscles require more energy to maintain compared to fat.
4. Emphasize Recovery and Rest
Rest days are essential for muscle repair, strength building, and injury prevention. Include active recovery activities like yoga or stretching, and ensure you're getting sufficient sleep. Sleep is crucial for muscle recovery, hormone regulation, and mental well-being. Aim for at least seven to nine hours of sleep each night, and listen to your body. If you feel overly fatigued or sore, take a break from intense workouts and focus on resting and recovering.
Furthermore, consider incorporating a massage or foam rolling into your routine to aid in muscle recovery and reduce soreness. If you are interested in supplements to support muscle recovery, consider protein powders or amino acid supplements. Great options include whey protein powder, BCAAs (branched-chain amino acids), or L-glutamine. These supplements can also help with muscle growth and repair. Finally, as you resume your workouts, start slowly and gradually increase intensity to avoid injury and burnout.
5. Cross-Train
Cross-training involves mixing different types of exercises to improve overall fitness. It helps prevent overuse injuries, avoids workout boredom, and challenges your body in new ways to boost overall performance. Consider incorporating activities such as cycling, swimming, or hiking into your workout routine. These low-impact exercises can help improve cardiovascular endurance while giving your body a break from high-impact workouts.
Additionally, cross-training can also help target different muscle groups and provide variety to your exercise regime. Ofer switching up your routine every few weeks to keep it interesting and continue challenging your body. Most importantly, listen to your body when incorporating new exercises and make sure to maintain proper form to avoid injury. Cross-training also helps prevent you from hitting plateaus which can be frustrating when trying to reach fitness goals.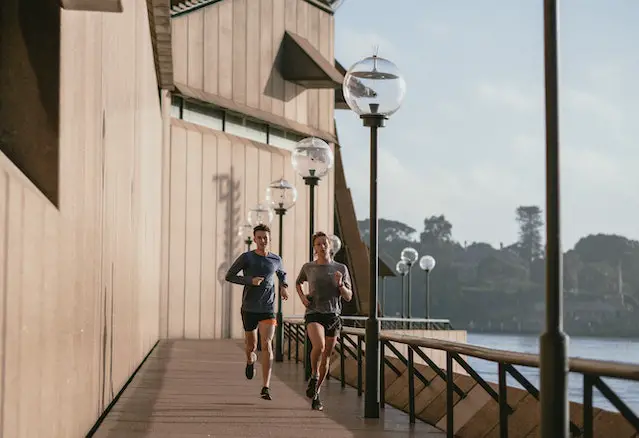 6. Set Realistic Goals
Having clear, achievable fitness goals keeps you motivated and focused. Regularly reassess your fitness objectives, measure your progress, and adjust your workouts accordingly. Setting realistic goals also helps avoid burnout and injury by preventing overtraining. Aim to challenge yourself, but remember that progress takes time and consistency. Celebrate small victories along the way, such as increased strength or improved endurance. This will help keep you motivated on your fitness journey.
If you are just starting with your workout now, after years of neglect, you should not strive for the same performance as someone who has been working out for years. Start slow and gradually increase intensity and duration to prevent injury and maintain long-term success. Being self-aware and having realistic expectations will help you improve your performance in the long run.
Incorporating these six tips into your workout routine can greatly enhance your physical performance and overall fitness. Remember to fuel your body properly, stay hydrated, incorporate strength training and rest days, cross-train, and set achievable goals. With consistency, patience, and self-awareness, you will see progress and achieve your fitness goals.
Keep pushing yourself, but also listen to your body and prioritize proper form and injury prevention. You've got this! So keep working hard, stay dedicated, and enjoy the journey towards a healthier and stronger version of yourself. As always, consult with a healthcare professional before starting any new workout routine or making significant changes to your current one.