MMO RPG is one of the most popular social genres in the gaming industry, since it allows you not only to choose the main character and character and adapt it to the main plot and tasks, but also to complete quests in the company of friends or random players.
The comfort of gaming sessions can be ensured not only through the time spent and personal perseverance and effort, but also through the correct assembly of the PC and additional devices that will help make progress in online gaming sessions.
If you currently do not have enough money for serious investments, then progress in the gameplay can be achieved through minor updates, or ordering the ff14 boosting service to complete part of the content.
Add RAM
If you often experience problems with freezes and FPS drops during gaming sessions, then the first thing you should think about in terms of upgrading is RAM.
Powerful gaming projects use a lot of the resources of your PC and system to load monsters, other players and full-fledged locations, so there should be at least 8 GB of RAM, ideally 16 GB, ideally 32, or 64 GB of RAM.
This is the most inexpensive performance boost that literally every gamer can afford; it is only important to consider how many slots you have for memory boards.
Often these are 4 full-fledged slots, and you can fill them with the required amount of RAM; it is important that all boards are from the same manufacturer, have the maximum volume suitable for the budget and have good bandwidth.
SSD disk
If you want to significantly speed up the loading speed of game locations, NPCs and other players, as well as launch system files and the entire operating system faster, then you need an SSD drive.
This is a new system that replaced hard drives.
Thanks to new technologies, you can achieve a significant increase in file processing speed, which means launching the operating system and games faster, loading locations and the players who are present in them.
This is a format that allows the player to see their opponents much faster when moving and loading locations and quickly engage in PVP against nemeses, rather than taking damage while you see a black screen and wait for loading to complete.
Video card
If you want to not only actively play MMO RPGs, but also enjoy a beautiful picture and not sacrifice it for the sake of performance, then you need a good video card.
Thanks to the DLSS technology, which is equipped with the new 4000 series devices from Nvidia, you can not only adjust the maximum graphics performance, but you can also significantly increase the FPS values, due to the technology for completing graphic moments using artificial intelligence.
This approach will greatly help players who want to enjoy a beautiful picture, and not play at minimum graphics settings for the sake of performance.
The era when developers did not pay enough attention to the beauty of the world has passed, and many MMO RPGs can now have good quality graphics, comparable to many large single-player projects.
Buy a gaming mouse
Many gamers, contrary to belief, continue to use old optical device formats without switching to new ones.
By choosing a gaming mouse, you will solve several problems in your gameplay at once.
Additional buttons
Many gaming mice have two additional buttons that can be customized at your discretion.
You can program individual keyboard keys to press them faster and more actively, or combine entire actions so that the program performs them and increases the speed of key presses.
So, professional CS 2 players set two keys to throw grenades.
The first button performs a standard animation with pulling the pin and aiming before throwing, with the ability to cancel the action at any time in case the situation changes.
The second button will immediately activate the animation and the grenade will fly towards enemies much faster, without wasting time on most animations, saving time.
Set up macros
Most programs that come with a gaming device support creation, setting up and editing macros.
You can configure cycles of actions that the program will perform. It can do this once, or until you press it again.
You can set up full-fledged magic casts and get FF 14 boost without pressing a large number of keys.
You will simply activate the macro and press it again to stop your attacks.
This format removes variability in combat and is not suitable for PVP, where you need to make relevant and timely decisions and use only those skills that will help at the moment – for example, a slowdown, or an attack that can be enhanced by a finishing skill.
But macros will perfectly help you cope with routine and grinding, simply carry out a series of attacks on monsters and constantly change targets in order to achieve the effect of automatic pumping even in those games that do not provide it.
Of course, the macro will not analyze the correctness of actions, but will simply execute commands, but if you constantly change and refine the macro, you can ultimately get a very good tool for automatic and effective pumping.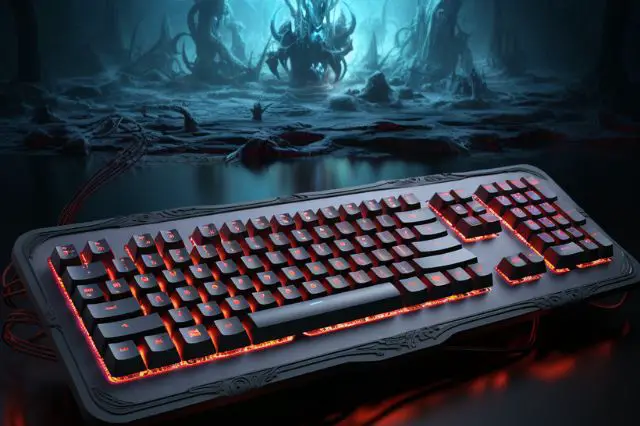 Gaming keyboard
If the mouse organizes the gameplay, then the keyboard complements it.
Likewise, you can customize literally every key at your discretion and also register macros, as well as get a beautiful and bright color that will complement the atmosphere of the gaming room.
You will choose from membrane and mechanical key mounting systems.
The membrane will have soft and quiet clicks, but will lag a split second in response speed, of course for most players this will not be significant, but for e-sports games and MMO RPGs the difference in PVP can be more significant.
A mechanical keyboard will activate the key you press faster, but will have a loud response sound, which can be annoying during long gaming sessions for you and your neighbors if you don't live alone.
For competitive mode, I recommend choosing a wired keyboard, but if you want to fully enjoy the gaming experience anywhere in your home, then consider a wireless keyboard format.
The delay system is a thing of the past due to the development of Bluetooth technology.