Going to the hospital can be a nerve-wracking experience – and this anxiety is only increased if a patient senses that they don't feel welcome in their environment. After all, an unwelcoming atmosphere can make patients feel like just another 'case' on a nurse's docket or menu item for a doctor to check off. Fortunately, there are ways that hospitals can ensure every person who walks through their doors feels valued and secure while receiving medical care. In this blog post, we will delve into how hospitals can create environments where their patients feel both cared for and respected throughout the entire process.
Introduce positive images in the hospital lobby
The hospital lobby is often the first place where patients and visitors enter the medical facility. It's the first impression they have about the hospital. That's why it's critical to establish a welcoming ambiance right from the moment they walk in. Introducing positive images in the hospital lobby is one way to accomplish this. Whether it is a beautiful piece of art or uplifting photographs of nature, positive images can have a profound effect on a person's mood and well-being. These types of images can evoke positive emotions and alleviate the anxiety and stress that patients and visitors may feel when visiting the hospital. Furthermore, they can enhance the overall healing process by creating a peaceful and calming environment that promotes a sense of tranquility and helps to reduce stress levels. Therefore, positive images in the hospital lobby are an excellent way to improve the patient experience and help them feel more comfortable and relaxed while inside the medical facility.
Provide pamphlets and information on how to access resources
Hospitals can be intimidating. That's why it's crucial to offer pamphlets and information about available resources. These helpful materials can guide individuals through the process of finding the resources they need to take care of their health. Whether it's figuring out how to schedule appointments or understanding insurance coverage, these pamphlets provide clarity and much-needed support during a stressful and uncertain time. By having access to these resources, individuals can feel more empowered and knowledgeable about their healthcare options. It's important to prioritize disseminating this information to promote better health outcomes and ensure that all patients receive the care they need.
Create a warm and inviting atmosphere
Creating a warm and welcoming atmosphere can greatly alleviate concerns when you're in a hospital. In order to create a more calming environment, it is suggested to include plants and play soothing music throughout the facility. The natural touch of greenery can provide a calming effect, while soft music can create a tranquil environment. Another crucial aspect is the comfort of the seating arrangements. A plush and cozy chair can make all the difference for someone who may be feeling anxious or uncomfortable. Additionally, hospital cubical curtains provide privacy for patients and their families during moments of intimacy or when discussing sensitive information. Overall, it's important to make a hospital feel like a comfortable space that patients can look forward to visiting during their time of need.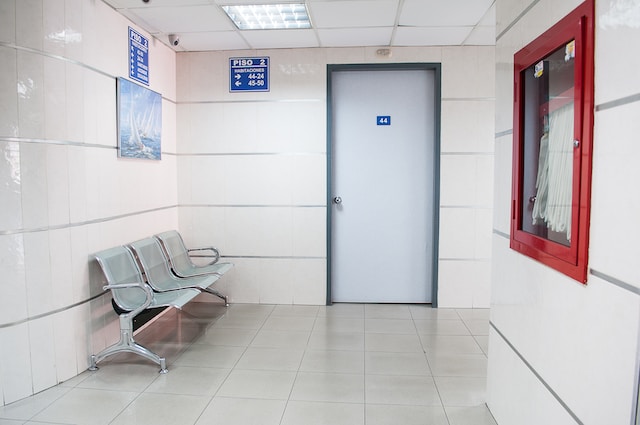 Offer free Wi-Fi for visitors and patients
The hospital can be a place that is not only physically challenging but mentally draining as well. The last thing anyone wants to worry about is not being able to connect with friends and family while getting the care they need. That's why offering free Wi-Fi for visitors and patients is a simple but practical way to add a little bit of comfort and convenience during their stay. Whether someone is waiting for a loved one to undergo surgery or staying overnight for treatment, having access to the internet can make all the difference in the world. And with more and more people relying on technology to stay in touch, providing free Wi-Fi can be a valuable tool in keeping patients and families informed and connected.
Add an area dedicated to children
Hospitals are often a place of fear and anxiety for people of all ages, but especially for children. Being in an unfamiliar and sterile environment can be scary for them, causing discomfort and distress during their stay. As such, providing an area within the hospital that is dedicated to children with toys and books could alleviate some of these feelings. Having access to a fun and engaging space can help them feel more comfortable and at ease, and can even distract them from any unpleasant medical procedures they may need to undergo. This area would not only offer a positive distraction for children but also provide their parents and caregivers with some much-needed peace of mind knowing that their little ones are happy and occupied. By implementing this space, hospitals can create a more welcoming and supportive environment for their youngest patients.
Utilize cultural competency training
Cultural competency is an essential part of providing quality healthcare, and it is important that hospitals strive to create environments that are welcoming and respectful to all. To do this, a hospital should incorporate cultural competency training into its practices. This training should include educating staff on how to properly interact and communicate with individuals from different backgrounds. This could include providing culturally sensitive language classes, learning about social customs, teaching proper communication techniques, and educating on cultural beliefs and practices. By taking the time to understand cultural differences and various forms of communication, hospitals can ensure that their patients receive care with respect and dignity.
Ensure comprehensive coverage
Providing comprehensive coverage is critical for providing quality healthcare. Unfortunately, many individuals don't have access to the resources or medical insurance needed to get the care they need. To ensure that everyone has access to comprehensive coverage, hospitals should consider offering financial assistance programs or free services for those who are in need. In addition, hospitals should work to cultivate relationships with local organizations and charities that can assist those who may not be able to afford medical care. By taking these steps, hospitals can ensure that individuals are receiving the comprehensive coverage they need and that no one is being left behind.
Creating a welcoming and comfortable atmosphere in medical facilities does not have to be difficult. By offering resources, providing free Wi-Fi, dedicating an area for children, utilizing cultural competency training, and ensuring comprehensive coverage of patients' needs, hospitals can create an environment that is supportive of all individuals regardless of their background or financial situation. With these tips in mind, hospitals should strive to make sure every patient feels respected and valued during their visit.