If you're looking for stimulating ways to use your free time, puzzles and brain teasers can be a great choice – not only are they entertaining but also highly effective at exercising the mind. They keep the brain active by challenging it to think logically and solve problems quickly, which can give us a mental workout as well as an added boost of confidence after finishing a particularly tricky one! There is something special about watching our minds work on multiple levels at once to both figure out the answer and enjoy competition with friends or other players. We know that exercising the body benefits us in many important ways, similarly, we will explore how exercising our minds through puzzles have its own unique advantages. In this post, we'll take a closer look at why puzzles and brain teasers should become part of everyone's weekly routine.
What are the benefits of doing puzzles and brain teasers?
For starters, puzzles and brain teasers help improve cognitive function and memory retention. They stimulate your brain cells and help build new neurological connections, which can improve overall brain function and performance. Furthermore, doing puzzles and brain teasers can also help reduce stress and anxiety, providing a relaxing and calming effect on your mind. It's no wonder that many people turn to puzzles and brain teasers as a way to unwind after a long day or as a way to take a break from work. Moreover, puzzles and brain teasers can be done alone or with friends and family, making them a great way to socialize and bond over a shared activity.
Types of puzzles and brain teasers to try out
Puzzles and brain teasers can be a fun and challenging pastime that exercises your mind. From classic jigsaw puzzles to complex Sudoku grids, the types of puzzles available are endless. Try out word puzzles like crosswords or anagrams and challenge yourself to unscramble words in a limited amount of time. For those who prefer visual challenges, optical illusions can provide hours of entertainment. Brain teasers like riddles and logic puzzles are great for training your problem-solving skills. The next time you want to give your brain a workout, explore the variety of puzzles and brain teasers available and find ones that suit your interests and skill level.
Tips for getting started with puzzles and brain teasers
If you are looking to get started with puzzles and brain teasers, there are a few things you can do to ensure a successful start. First, pick a puzzle that interests you. This will increase your motivation to complete it. Start with a puzzle that is not too difficult, as this will help you build up your confidence and skills. Make sure to set aside some time each day to work on your puzzle, as this will help you stay focused and committed to completing it. Another great tip is to work on puzzles with friends or family members, as this will add fun and competition into the mix. Lastly, don't be afraid to ask for help if you get stuck. Remember, the more you practice, the better you'll become at solving puzzles and brain teasers.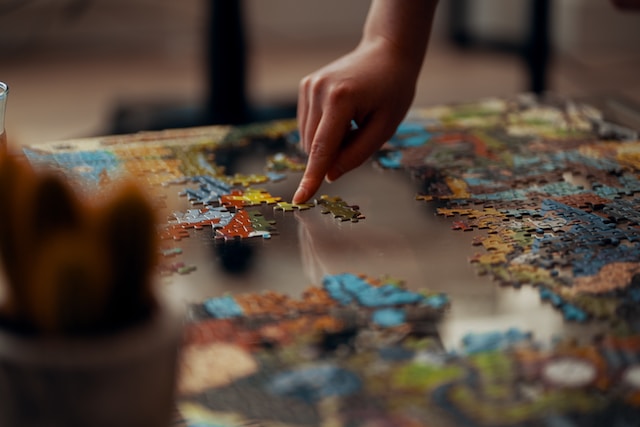 Finding resources online for learning new puzzles 
The internet is a treasure trove of information, and for puzzle enthusiasts, it offers endless opportunities to learn and expand their repertoire. With just a few clicks, you can access a vast array of resources online for all kinds of puzzles – from crossword puzzles to Sudoku, and everything in between. There are numerous websites, forums, and online communities out there dedicated to sharing puzzles, tips, and tricks. These resources offer a wealth of information for beginners and experts alike. You can find video tutorials that demonstrate techniques, blogs that offer step-by-step instructions for solving complex puzzles, and even online tools to help you create your puzzles. The best part about these online resources is that they're accessible to everyone. So whether you're a seasoned puzzle veteran or a beginner, you're bound to find something that will inspire and challenge you. With so many resources at your fingertips, you're sure to discover new and exciting puzzles that will keep you engaged for hours on end.
Introducing puzzles and brain teasers into your everyday routine
Have you ever found yourself feeling like you're in a rut, going through the motions of your day without much mental stimulation? If so, it may be time to introduce some puzzles and brain teasers into your everyday routine. Not only do these activities provide a welcome break from the monotony of tasks, but they also help improve cognitive function and creativity. And the best part? You don't have to carve out a lot of extra time to incorporate them into your day. You can solve a puzzle during your commute, or take a ten-minute break to work on a cryptogram.
How to make sure you stay focused while doing puzzles or brain teasers
The real challenge of doing puzzles and brain teasers is staying focused and engaged throughout the process. The good news is that there are some tried and true techniques that can help you stay on track. First and foremost, eliminate distractions as much as possible. Turn off your phone, close unnecessary tabs on your computer, and find a quiet space to work. Additionally, set a clear goal for yourself before starting each puzzle or game. This can help give you a sense of purpose and keep you motivated. Another helpful tip is to take breaks periodically. This can help keep your mind fresh and prevent burnout. And finally, keep in mind that progress, not perfection, is the ultimate goal. Don't get discouraged by mistakes or setbacks – simply keep plugging away and the payoff will be well worth the effort. With these tips in mind, you'll be well on your way to becoming a master puzzler in no time!
So, there you have it! It's great to find a puzzle or brainteaser that suits your lifestyle and works with your interests. It's important to remember that puzzles and brain teasers can be sound investments for sharpening your mind. In short, they can make a tremendous difference when it comes to cognitive impairment and memory loss. Last but most importantly, if puzzles and brain teasers sound interesting and exciting to you in any way – go for it! Embrace the challenge that awaits you and have fun with it!