The dining room has grown into a canvas for artistic expression and contemporary aesthetics, moving beyond ordinary practicality. The art of building a modern dining room that effortlessly integrates refinement, comfort, and utility changes alongside our lifestyles and aesthetic choices.
In this article, we'll take a look at the concepts and ideas of modern dining tables for great room design.
Top Dining Room Ideas to Use in 2023
These modern dining room ideas will help greet your dinner guests with a contemporary style:
1. Embrace the Minimalism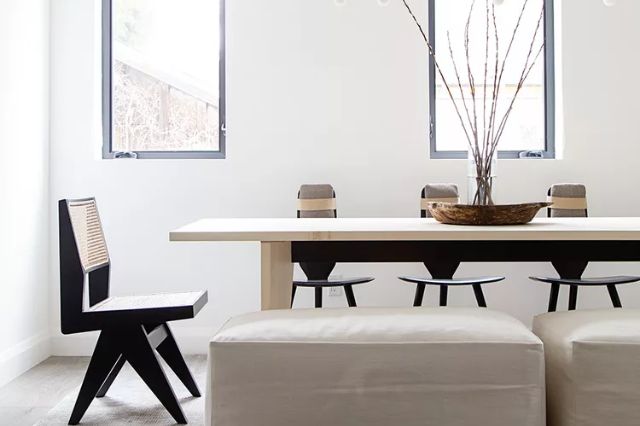 We've never seen simplicity so appealing. A combination of complementary, but not exactly coordinating, chairs is accompanied by cushioned benches, which provide seating as well as a new layer of softness to this room. Textural interaction is important, with the light wood table echoing the cane of the chairs and something warmer underfoot.
2. Prioritize a Clean Space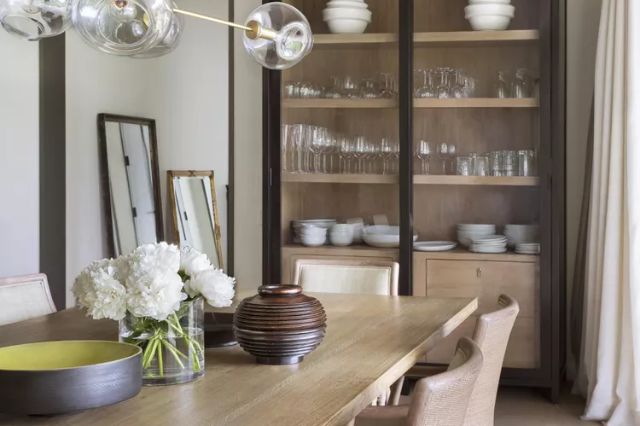 A fantastic light fixture may be the perfect way to anchor your dining room while also infusing it with individuality. These elegant chairs and rustic wooden tables strike the right balance between dressed-up and laid-back, so there's always an occasion to invite a few guests for dinner.
3. Add olorful Elements
The walls exude personality, displaying a varied art collection and a comparable range of seating options, ranging from big upholstered chairs to vibrant, coral-hued bamboo ones. A few mid-century details, like lighting, tie the entire place together, producing an aesthetic that is undoubtedly as one-of-a-kind as the individual who lives here.
4. Feel the Atmosphere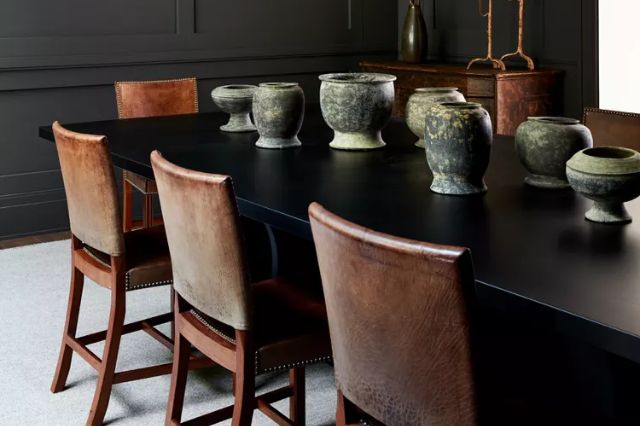 Dark dining rooms are popular right now, but don't be put off by the dark tones. This dining setting's heart is a true crowd-pleaser. A striking wall color does the heavy work in terms of establishing ambiance, so all that's left to do is choose a dining set — in this example, one that combines a sleek black table with timeworn leather for an incredible aesthetic. Dinner is ready when you add a dimmer switch or light a few candles.
Modern Bar Cabinets for Your Dining Room
The theory is nothing without practical application. With that said, take a look at some of the greatest modern cabinets to match your dining space:
Extro Bar Cabinet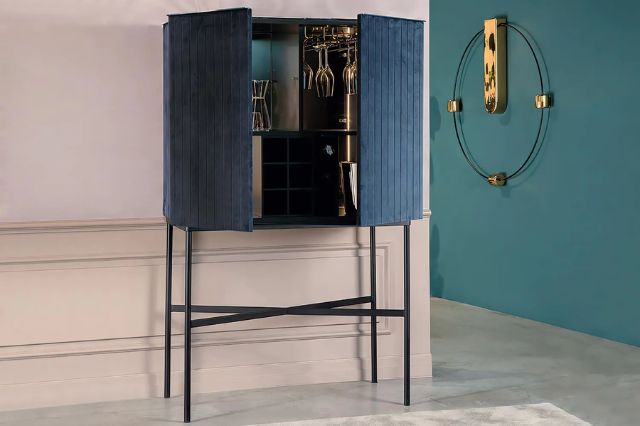 Tonin Casa's Extro bar cabinet, a novel piece of furniture, shakes things up in a modern home. This cabinet's body is intriguingly upholstered in velvet, and accented by vertical striations, a one-of-a-kind feature that feels fantastic on the skin and pleases the eyes with a sophisticated nature. A crisscrossed metal foundation beneath the cabinet adds a distinctive touch of design. The inside shelves have plenty of space for storing liquor, organizing wine bottles, and lining or hanging glasses. Use the built-in internal light to illuminate everything. It will be wonderful to see guests' faces light up as you approach this cabinet to begin the celebrations.
Cremona Bar Cabinet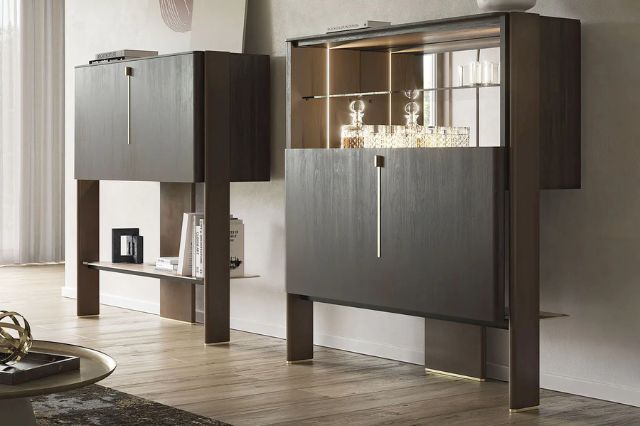 The Cremona bar cabinet reinvents the conventional bar cabinet silhouette, challenging preconceptions in form and function for a more functional kitchen, dining, or bar environment. Tall legs on the sides and rear raise the main structure to a sleek, unusual height. With all of this room, the unique antigravity sliding door can slide vertically, giving you the option of displaying what's in the cabinet – dishware, beverages – or what's on the lower shelf – decor, books. For a beautiful appearance, illuminate everything with bright LEDs.
Mary Bar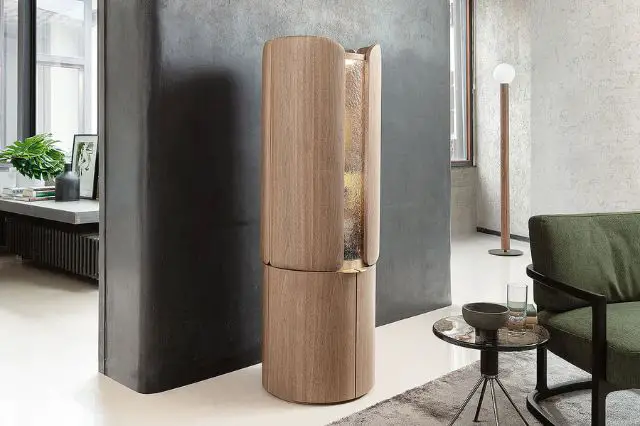 The Mary Bar by Porada is a one-of-a-kind sculptural piece that will add some flare to your home bar area. The unique cylinder-shaped structure is made of a vibrant blend of wood, glass, and metal components that stand out against one another. Swing-door compartments on two levels open to expose robust shelves that neatly contain your bottles, glasses, and other bar accessories. A built-in inside light is included to emphasize the compartments further for extra attractiveness.
Modern Dining Tables to Decorate Your Room
A dining room is nothing without a great table. Feel free to inspire by looking at these astonishing examples of contemporary dining tables:
Senator Dining Table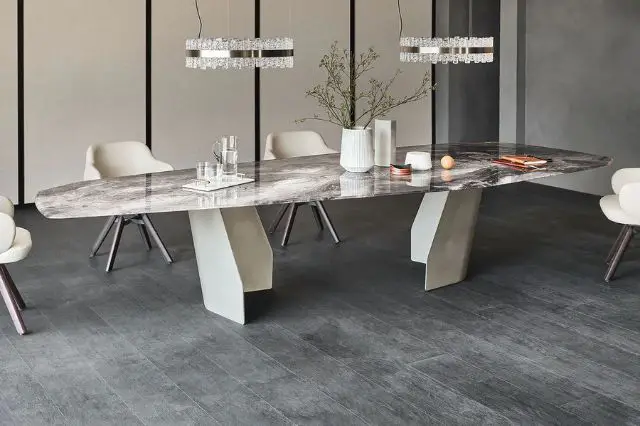 The Senator dining table by Cattelan Italia transforms the dining room into the most magnificent space in the house, resembling a chance shape discovered in nature rather than a man-made structure. This table's towering silhouette is charmingly irregular, defying recognized principles of geometry to generate its moniker. The top and legs are constructed asymmetrically to resemble a naturally occurring monolith. The glass CrystalArt coating enhances geological beauty and is complemented by subtly stylish beveled edges. There's plenty of room for lavish feasts and huge gatherings, and there's always something to spark the conversation.
Mellow ST Round Dining Table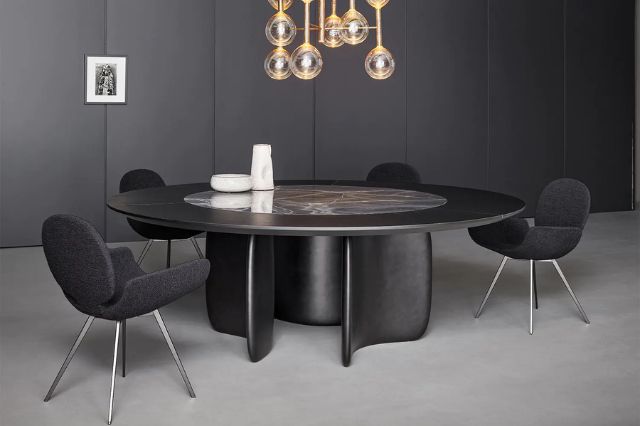 The Mellow ST circular dining table reinvents the traditional structure of the furniture, resulting in a more simplified eating experience. The central top swivels, making buffet-style dinners possible. It is not only functional, but it also presents a dramatic and attractive contrast to the hardwood outer ring. With a dramatic sculptural foundation, this table becomes even more generous. The three curved sections are appealing because of their stylish contours and excellent support. The use of high-quality materials in these sections assures that this table will be a staple in any modern house.
Osmose Dining Table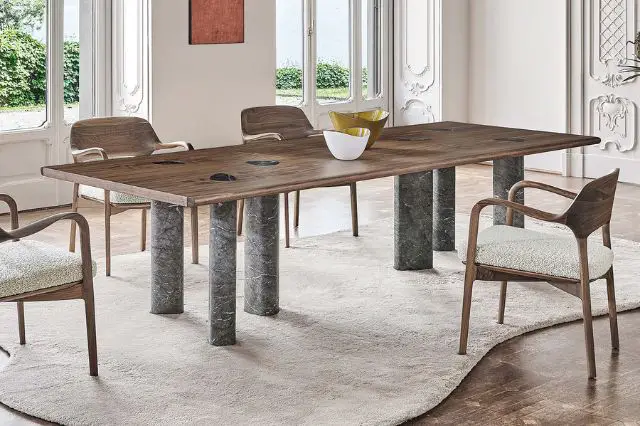 With its natural features, the Osmose dining table stands out in a modern dining area. The marble legs are organically inclined in varied forms and grow out at different spots, like tree trunks dotting a forest. Marble inserts in the same location as the legs lie on top of the rustic wooden surface, making it appear as if they're sprouting up through the wood for a nice stone path pattern. Dining is sumptuous not only because of the sculptural form but also because of the vast space and exquisitely curved edges of the table. Pull up a pair of Porada dining chairs for a pleasing sense of harmony.
Conclusion
You may create a setting where culinary experiences and aesthetics intersect by combining elegant aesthetics with useful aspects. Your modern dining area becomes an invitation to indulge in both food and contemporary elegance with a combination of personal flair and design ideas.