The concept of weddings in Georgia can be traced back to ancient times, with the first mentions of weddings dating back to the medieval period. Weddings were seen as important social events, uniting families and cementing alliances between clans and tribes. They were often accompanied by sumptuous feasts, music, dances and other celebrations.
Weddings in Georgia emerged as a way to celebrate love and union between two people, as well as to mark the beginning of a new family. They were also seen as a way to demonstrate wealth and social status, with families competing to have the most lavish weddings.
Georgia Wedding Traditions
Georgian weddings are steeped in tradition and symbolism. One of the main traditions is the "hinoba," the engagement ceremony. During "Hinoba," the bride and groom's families exchange gifts and blessings, and the couple is officially engaged.
Another important tradition is the Neknebi. – a pre-wedding purification ritual. The lovers and their families participate in a purification ceremony, which is believed to purify them before the wedding day.
The wedding ceremony itself usually takes place in a church, since Georgia is a predominantly Christian country. It includes various rituals, such as the exchange of wedding vows, the exchange of rings, and the "Mtskheta" ceremony, where the couple drinks wine from the same cup.
Traditional Georgian weddings are known for their lively celebration, with music, dancing and feasting an integral part. Georgian folk dances such as "Kartuli" and "Acharuli" are often performed at weddings accompanied by traditional music on instruments such as "Chonguri" and "Doli."
Modern Weddings in Georgia
In recent years, modern weddings in Georgia have begun to incorporate both traditional and modern elements. While some couples still choose traditional Georgian rituals, others prefer to make their weddings more unique through decor, decoration, styling and other elements.
Modern Georgian weddings often combine traditional and modern wedding attire. The bride may wear a traditional Georgian dress called a mokhza and modern accessories, while the groom may wear a traditional chokha or modern suit.
Wedding venues have also changed, with couples often choosing to hold their weddings in hotels, restaurants and other unique venues. To meet the growing demand for modern weddings, wedding planners and vendors have emerged offering services such as event planning, floral arrangements and wedding photography.
Weddings in Georgia for Foreigners
Georgia has become a popular destination for foreigners to register their marriages because of its simplified marriage registration process and affordable wedding prices. Many couples from different countries choose Georgia as a wedding destination because of its picturesque landscapes, rich culture and hospitable people.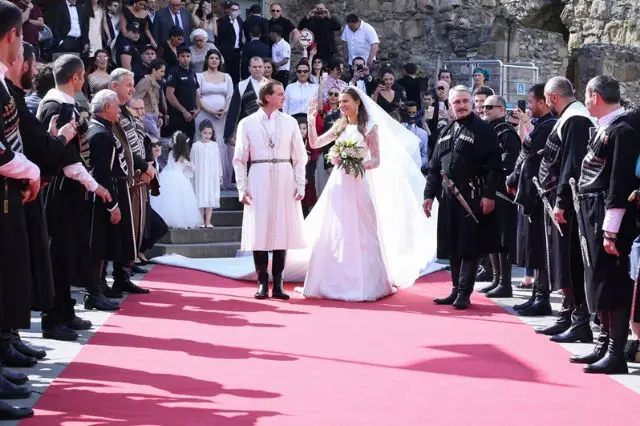 The influx of foreign couples getting married in Georgia has also spurred the growth of the country's wedding industry. To meet the needs of foreign couples, wedding agencies such as Shu Wedding have sprung up, offering services such as wedding planning, legal assistance and translation services. Working with such a wedding agency, can provide foreign couples with a seamless and enjoyable experience as they navigate the process of getting married in another country.
The benefits of working with a Shu Wedding agency:
Expertise and local knowledge. Shu Wedding has a team of experienced wedding planners who are familiar with local wedding customs, traditions and vendors. They can provide valuable guidance and advice on every aspect of the wedding planning process, from legal requirements to cultural nuances, ensuring that the couple's vision is brought to life in a culturally sensitive manner.
Convenience and coordination. Planning a wedding in another country can be challenging, especially when language barriers and logistical arrangements are involved. "Shu Wedding can take care of the coordination and communication, making the planning process much more convenient and stress-free. They can help with venue reservations, transportation arrangements, coordinating with vendors and managing deadlines, allowing the couple to relax and enjoy their special day without worrying about the details.
Personalized Approach. The organizers understand that each couple is unique, and offer customized wedding packages tailored to the couple's preferences, style and budget. They work closely with the couple to understand their vision and create a wedding that reflects their personality and culture. From decor design to menu selection, Shu Wedding can help create a truly personalized and memorable wedding experience.
Financial Benefits. Georgia is known for offering affordable wedding packages compared to other popular wedding destinations. "Shu Wedding" can offer budget-friendly options for couples who are not willing to overpay or want to save as much of their wedding budget as possible.
Supplier connections and quality assurance. The agency has an extensive network of reliable vendors, including photographers, florists, caterers and more. It conducts a thorough screening process to ensure that all vendors meet their quality standards, ensuring that the couple receives top-notch services on their wedding day. This saves the couple the time and effort of searching and vetting vendors on their own.
Cultural Experience. Georgian weddings have unique customs and traditions that may be unfamiliar to foreign couples. Shu Wedding is familiar with Georgian culture and can provide guidance on etiquette, customs and traditions, ensuring that the couple and their guests have a culturally appropriate experience.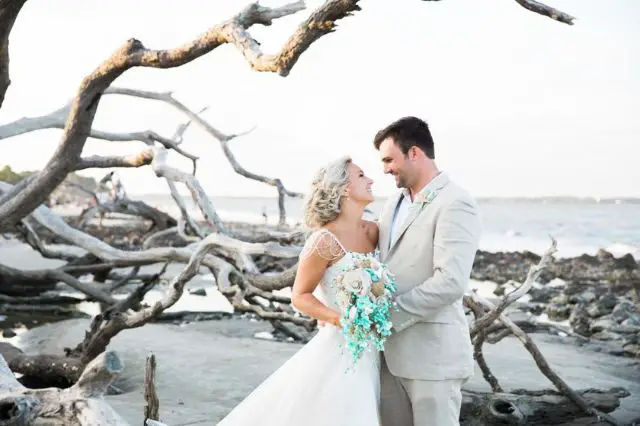 In addition to traditional Georgian wedding customs, modern weddings in Georgia often incorporate elements of other cultures, reflecting the diverse backgrounds of couples. This fusion of traditions gives the wedding celebration a unique and personal touch, creating an unforgettable and meaningful experience for the newlyweds and their guests.
In conclusion, weddings in Georgia have evolved from traditional to modern celebrations, and more and more foreign couples are choosing Georgia as their wedding destination. The combination of rich cultural traditions, affordable wedding services, beautiful scenery, and the fusion of customs of different cultures makes Georgian weddings a unique and exciting experience for couples looking for an extraordinary venue for their special day.